English
Noble Corporation has had an incredibly difficult time since the start of the oil crash, but has made several noticeable improvements recently.
The company's lawsuit will Noble Corporation will be immaterial in my opinion and not have a noticeable impact on the company's prospects.
Noble Corporation's new credit facility expiring in 2023 means the company will not have to worry about debt maturities until this time.
Noble Corporation  is an offshore driller that like all offshore drillers has had a difficult time since the start of the oil crash. The company has been pushed down by decreasing capital spending from oil companies, a lawsuit from its Paragon Offshore spin-off, and a difficult debt load that the company has to manage and pay off regardless of the environment.
However, as we will see, a recovering oil environment, combined with the low risk of the lawsuit from Paragon Offshore, and recent financial improvements for Noble Corporation, make this offshore driller one to watch through 2018.
Recovering Oil Environment
The oil market has been recovering noticeably over the past almost two years and that means good things going forward for the oil markets.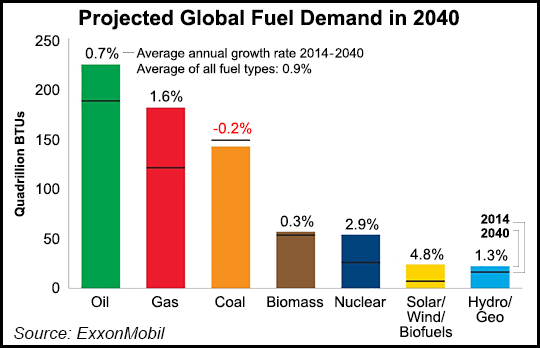 Projected Global Fuel Demand - Natural Gas Intel
Oil, and the natural gas that often come with it, might not see demand grow as rapidly of demand for renewables. However, from now until 2040, demand for both is expected to grow significantly to meet growing energy requirements along with a turn away from the more pollutive energy supplied by coal. Overall, oil is anticipated to have an average annual growth rate of 0.7% and natural gas a growth rate of 1.6% in this time.